From Our Family to Yours
When you need home inspection or pest control services, in the Greater Baton Rouge, LA area, Advantage Services is the ideal choice. Our team of experienced experts is not only qualified to get the job done; they are passionate about helping homes and businesses in the community where they live.
As a family-owned company, we set high standards for our team. From the moment they arrive at a job, you can expect efficiency and transparency. Whether you need a complete home inspection or a termite inspection, we will walk you through any questions you may have and make sure the job is completed to your satisfaction.
Have a question for one of our expert team members?
Meet the Extra Mile Family
Kevin Dinkel, Owner LHI #10050
Kevin Dinkel is a life-long resident of Louisiana and the owner of Advantage Services for 30 years. He is a Licensed C.E. Provider, home inspector and licensed trainer for new home inspectors.
Kevin has experience as an Insurance Claims Adjuster for Fire and Casualty and extensive residential and commercial inspections experience.
His wealth of knowledge includes an extensive background in mold testing, moisture intrusion analysis, and EFIS synthetic stucco.
Jeff Richards, Partner
Jeff and his wife and family are lifelong residents of Louisiana. He is very proud of his son, who served in the U.S. Navy and is now working alongside him.
Jeff has over 26 years of experience in the pest business. He is licensed in General Pest Control, Termite and Wood Destroying Insect Control, and Commercial Vertebrae Control.
Jeff brings a wealth of knowledge to our company and helps us go the Extra Mile. No one knows bugs like Jeff.
Danny McLaughlin LHI #11103
Danny is a life-long resident of Baton Rouge. He is a business owner and previously managed project services for industrial construction for four years.
Danny has extensive experience in commercial and residential construction as well as property management. Danny is also a licensed pest technician.
Nick Richards
Nick is a lifelong resident of Louisiana. He served in the U.S. Navy for seven years. After returning home, he joined his father in the pest control business.
He is a licensed pest technician with five years' experience in General Pest Control, Termite and Wood Destroying Insect Control, and Commercial Vertebrae Control.
Nick works tirelessly for his customers to help make sure any and all of their needs are taken care of. He truly knows what it means to go the Extra Mile.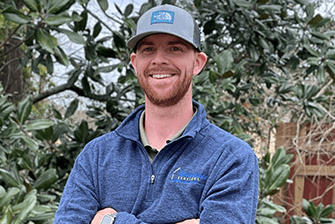 Brandon Robinson LHI #11296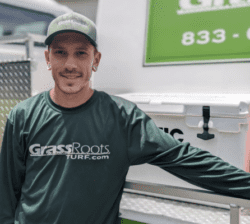 Laurie Faul, Administrative Assistant
Alayna Thibodeaux, Administrative Assistant
Are you ready to schedule your inspection?
Advantage Services
24550 Juban Road, Denham Springs 70726
GrassRoots Turf of South Louisiana
24550 Juban Road, Denham Springs 70726